Land prep and Construction
Landscape Design and Installation
Sod Installation or Seeding
Shrub, Tree and Plant Installation
New Planter Bed Installation
Walls and Custom Decks
Custom Gardens
Water Features
Patios / Flagstone Patios
Hardscapes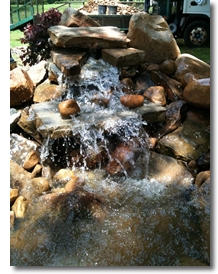 With years of experience in a wide variety of installation projects, Easley Yard Care has the know how and skill to deliver the results you desire. We have built a reputation for being versatile which has allowed us to work with clients on projects of all scopes and sizes.
Always wanted a water feature or an outdoor living space with rock work or a fireplace?
Our installation staff is a group of individuals with various talents and expertise in area such as landscape layout and design, grading and drainage, hardscape, irrigation, and lighting. It has evolved into a team of multi skilled players that have experience in meeting your needs in all aspects of outdoor living. We with our clients onsite everyday to manage each project from start to finish.
Easley's Yard Care brings dependability from multi-family and commercial projects to single family homes and every type, Easley has delivered the very best in quality.
Easley's Yard Care clients enjoy a level of communication and service that builds lasting relationships. Contact us today ... we'd love to get to know you!