Annual Lawn Maintenance
One-time Lawn Maintenance
Irrigation Equipment Repair
Irrigation Line Replacement
or Additions
Tree and Shrub Pruning
Quarterly Chemical Applications
Weeding, Land Prep and
Mulch/Straw Installation


Whether your property is commercial or residential you can be sure that Easley's Yard Care will provide you with the best landscape service available.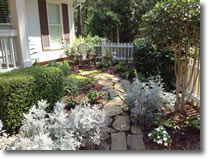 Our Focus: How can we present our clients property to the world so that it makes the owner proud - so that it's neat, clean and manicured - so that it contributes to a worry free and healthy environment - so that its best attributes are highlighted and its worst flaws are hidden!
We answer these questions by not only providing reliable general lawn and landscape maintenance services but consistently evaluating your property for opportunities to improve. We take great pride in our ability to address's potential issues before they become problems and in providing prompt solutions and ideas to enhance your property.
Easley's Yard Care clients enjoy a level of communication and service that builds lasting relationships. Contact us today ... we'd love to get to know you!
Our year-round program offers our clients a maintenance program which covers all aspects of their landscape maintenance needs. The year-round program is truly an A to Z program specifically designed for those clients who expect a meticulously maintained landscape. We customize your year-round maintenance program to suit your needs. A specially trained crew will perform all of the weekly service functions which are as follows:
Deep hand pruning of all ornamental plant material
Ground cover control e.g. ivy, vinca
Insect and disease control
Weed control
Hand weeding
Tree maintenance e.g. limbing up and maintaining proper form
Fertilization of plant material
Edging
Leaf removal
Trenching bed lines
Design seasonal color
Cleanup of landscaped areas each visit
Aerate and overseed of cool season turf in fall (fescue)
Aerate and scalping of warm season turf in spring (Bermuda)
Irrigation system start up, shut down, and monitoring
Fertilization and weed control of turf area
Mowing of all turf area